Awareness. Action. Avoidance.
Ntirety Managed Phishing-Awareness Training And Education helps employees understand what to look for and what to do when targeted by phishing attacks. Our experts work with you to launch proven and highly effective phishing-training programs that can dramatically reduce the risk of users accidentally allowing threats into your environment.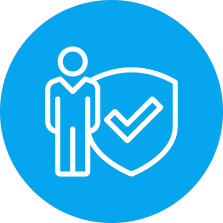 Through extensive security learning modules and phishing exercises tailored to meet your specific needs, Ntirety Managed Phishing-Awareness Training And Education gives your business a robust defense against attack.
Easily and automatically deploy phishing tests on any schedule you prefer
Customize training programs to specific departments, job levels, industry, and more
Embed a one-click suspected-phishing button into your email instant reporting following by rapid remediation and guidance from security professionals
See detailed reporting revealing program progress and efficacy, with recommendations for supplemental training based on identified user tendencies
Access an industry-leading learning management system (LMS) with hundreds of training videos covering cybersecurity, compliance, and more
Gain peace of mind knowing the solution is fully managed by Ntirety's three U.S.-based security operations centers (SOC)
One-Click Phishing Reporting
Ntirety will work with you to embed a suspected-phishing button directly into your email platform so users can easily report suspicious emails with a click. From there, Ntirety experts vet these emails for legitimacy – greenlighting valid emails and trashing and logging actual phishing attempts.