CaaS
Compliance-as-a-Service
Go Beyond Checkbox Compliance to Reduce Risk and
Strengthen your Overall Compliance and Security Posture
Ntirety's Compliance-as-a-Service (CaaS) offers a comprehensive and ongoing compliance solution. Our expert team can design, build, and manage a compliance program from the ground up or improve upon what your team has already developed to improve efficiency. Paired with Ntirety's security services, you'll be able to mitigate threats and quickly detect, respond, and recover from incidents.
Speak to a compliance expert
Stay Ahead of Evolving Requirements and Risks
with a Comprehensive, Ongoing Program
Keeping pace with complex security and compliance needs has never been more difficult. There's mounting regulatory pressure, ever-changing requirements, historically high cyberthreats and a serious talent shortage. You're expected to not only maintain compliance, but also help manage risk across your entire organization in a cost-effective way.
Ntirety helps you get ahead of regulatory demands, address risk, and provide evidence of your compliance adherence to build trust with auditors, customers, and partners. Our CaaS combines the best of parts of Governance, Risk, and Compliance (GRC) tooling, consulting, and implementation to simplify the entire compliance process—from understanding requirements and gathering evidence across departments to implementing controls and reporting on program effectiveness.

More than 50% of Chief Compliance Officers
are not confident in their ability to meet new regulatory requirements for consumer privacy and protection.1
Non-compliance Costs More Than 2x the Cost of Maintaining Compliance2
Benefits
Effectively comply with evolving regulations and achieve certifications faster

Ensure best practices with ongoing guidance and year-round management from a dedicated resource

Standardize your approach with proven processes, policy templates, and programmatic risk assessments

Gain visibility into how you're progressing towards goals and timelines by centralizing data and getting access to executive reports

Safeguard systems, data, and infrastructure with risk remediation

Proactive education on latest trends and compliance changes

Lower costs by increasing operational efficiency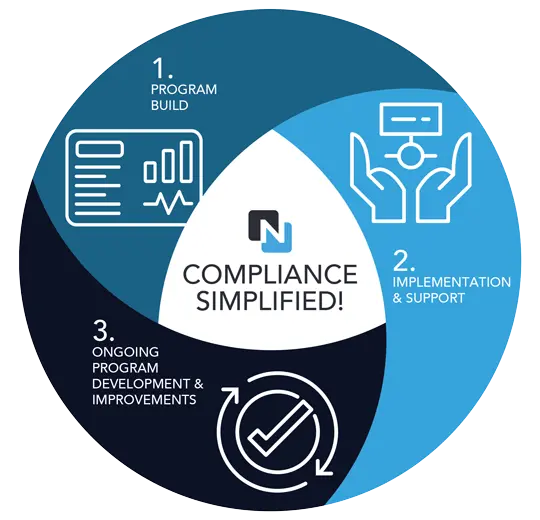 "Based on my observation, Ntirety is among the top 10% of SOC compliance rigor—not only keeps up with key details behind compliance—but actually ensures that compliance is part of their solutions, so their customers have less to worry about."
Jon Long
CISA, QSA SENIOR AUDIT MANAGER,
COMPLIANCEPOINT
"Ntirety offers comprehensive compliance-as-a-service with a dedicated expert that has become an extension of our team throughout the entire process. The continuous support and guidance from strategy to implementation is invaluable; I wouldn't be able to get it all done without Ntirety."
Greg Church
AbsoluteCare
Though every engagement is a bit different due to your business needs and compliance objectives, Ntirety CaaS program may include:
Policy and Procedure Development

Security Control Assessment

Vulnerability Assessments

Vendor Risk Tracking

Master Audit Schedule

Information Security Management Training
Compliance KPI Development

Compliance Program Monitoring and Reporting

Incident Response and Disaster Recovery Exercises

Security Control Implementation

Audit Assistance
We Support Common Frameworks
Health Insurance Portability and Accountability Act (HIPAA)
Health Information Trust Alliance (HITRUST) Common Security Framework (CSF)
Payment Card Industry Data Security Standard (PCI DSS)
System and Organization Controls Report (SOC 1, 2, or 3)
International Organization for Standardization (ISO)
General Data Protection Regulation (GDPR)
California Consumer Privacy Act (CCPA)
Federal Risk and Authorization Management Program (FedRAMP)
Information Technology Infrastructure Library (ITIL)
Why Ntirety?
Compliance-as-a-service is just a fraction of the value Ntirety delivers and is part of Assurance in our Comprehensive Compliant Security Framework. Though compliance is a great start, only comprehensive, proactive security offers peace of mind.
Ntirety has achieved major certifications, including HITRUST, PCI-DSS, and SOC II Type II, to demonstrate our level of commitment to security and compliance as a trusted partner, passing those insights and benefits onto you. Our expertise, resources, management, and ongoing support ensure you attain compliance and stay ahead of evolving requirements and risks.
With 20+ years of experience in IT, compliance, and security, we understand the nuances of compliance regulations and how they apply to businesses in every industry.
Source
1. Accenture 2021 Global Risk Management Study, 2021
2. The True Cost of Compliance with Data Protection Regulations, Globalscape, December 2017