Migration FAQ
Last updated March, 03 2020
Hostway Customer Migration FAQ
Why am I being migrated?
The merger of Hostway and Hosting and rebrand to Ntirety includes a merger of our operations. As a part of that process, we are moving clients to a new operational system that includes combined customer portals, billing, ordering, and provisioning systems.
Will the price I pay for products and service change?
The bottom-line invoice price for your products and services will NOT change. There may be adjustments to the way in which the product and service is listed, described, and priced on your invoice, but your bottom-line cost (before sales tax) will not change.
What will change after the migration?
There will be three primary changes:
You will use the legacy Hosting customer portal to access the management function of your systems. The customer portal has more functionality and is more flexible than the legacy Hostway control panel.
Your invoices will have a different format and will contain more detail about your subscriptions. There is also an option for you to pull a detailed or summary invoice through the customer portal.
The ticketing system will change. For security reasons, you will no longer be able to send emails to generate new tickets. Instead you will only be able to create tickets through the customer portal, but you will also be able to respond to tickets with updates via email. This change is to close a security risk in receiving emails directly into the ticketing system.
Will my products and services change?
No, there will be no changes to the products and services that you are receiving. The changes only affect the business operations and customer interface systems. There may be other changes that affect you from other integration projects, but those will be communicated to you if and when you are scheduled to be impacted by those changes.
What will happen to existing support tickets I have open?
Your support tickets will be migrated to the new ticket system. This will include both open and closed tickets for you to access your full history in one place.
What do I need to do on my side following the migration?
The amount of work needed to implement these changes on your organization's end are minimal:
One person from your company will be assigned as the customer portal administrator during the migration process. This admin will give permission to other organization users to access the customer portal.
In most cases, you will need to change your DNS "glue" records to point to a new set of nameservers in order to manage your DNS records through the new customer portal.
Why do I need to change my "glue" records?
Once your account is migrated, you will need to change your "glue" records before any changes are made to your DNS records. You will be able to change the DNS records through the new customer portal, but they will not take effect until your "glue" records are pointing to Hosting nameservers.
What will my new customer portal look like?
The new portal can be accessed at: https://portal.hosting.com
The login page looks like this: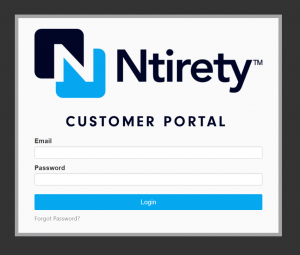 You will login with your email address and password. There will be a slightly different version of this login page at your first login in order to confirm your password setup.
Will my invoices change?
Yes, your invoices will have a new format and may have more detail than is currently presented on your invoice.
Despite these adjustments, the bottom line of your invoice (before sales tax) will not change.
What if I don't want to be migrated?
Unfortunately, migrating to the Hosting customer portal is not optional. However, please note we are not changing products or services, merely the business systems that support your products and services. This migration will also open new opportunities to improve your products and services by offering you opportunities to upgrade and enhance your current subscriptions.
When will I be migrated?
The account migrations discussed here are currently scheduled to start on September 30, 2019. Most customer accounts are expected to be migrated by December 2019, but migrations will continue through the second quarter of 2020.
Am I able to reschedule my migration?
Yes, we have some flexibility in scheduling migrations. However, there are many factors that must be considered in your migration scheduling. Typically, it will be easier to move your migration to a later date rather than an earlier date. We are more than happy to discuss options with you.
Will my sales tax burden change?
The logic for calculating sales tax will not be changed. However, defining a new sales tax nexus location could alter your tax burden. For more information about sales tax nexus locations, please read our sales tax FAQ.
Will there be downtime associated with this migration?
There will be no downtime on your systems as we execute the account migrations. However, there may be brief periods of time where you are not able to submit support tickets or reach the new customer portal. We aim to keep these periods of access downtime to a minimum and will provide more information as we get closer to your actual migration.