During
Microsoft Inspire 2019
, Microsoft CEO
Satya Nadella
shared the company's mission to "empower every person and every organization on the planet to do more"—with more innovation, solutions and services. After taking in all the July conference had to offer, it was clear to see how Microsoft's plans for the upcoming year will fulfill this mission.
From Microsoft's strategies and priorities for 2020 to the latest innovations, below are our key takeaways from the premier technology conference:
Democratization of Technology
Microsoft sees the "democratization of technology" as the core means to enable developers, organizations and people to get the most out of the company's expanding tools and services. Democratization of technology puts the emphasis on partner investments to improve the customer experience and to help partners better serve their clients. This pillar of empowerment guides Microsoft's outlook for 2020.
2020 Strategy Foundations
Microsoft has honed the strategy for next year to put more control in the hands of businesses and partners through:
Customer Centricity: Building a trusted network around each customer
Simplicity: Removing complexity from roles to enable access
Tech Intensity: Elevate the level of conversation on how technology can work with a customer's business; namely, investing in training teams and partners
2020 Priorities
Building upon the 2020 strategy foundations, Microsoft introduced specific priorities to grow the organization's own offerings for more individualized solutions:
Setup customers for successful cloud use including: cloud adoption plan, skills building and well managed cloud environments
Innovate with new apps and modernize existing apps with serverless, databases and AI
Invest more focus on DevOps, analytics and modern data warehouse
Expand specialized areas like Al knowledge mining, machine learning, applications—such as IoT, gaming, mixed reality—and infrastructure including Azure Stack, HPC, advanced networking and security
Innovation for Better Alignment and IT Advancement
Enhanced Solutions
Microsoft showcased the company's optimized tools—designed to drive internal collaboration, expand customer's IT skill sets, and push iterative refinement. The event highlighted the popular tool Teams as a breakout product for collaboration. Also featured was the growing offerings of Power BI, highlighting the product's ability to take customer's data to the next level while offering key insights.
The evolution of products and services to meet ever-changing customer needs also came in grander shifts with more companies moving away from cloud-only solutions toward increased use of edge computing. Partners that can provide more colocation and edge options are found to be more effective and highly optimized to deliver service—and their services are increasingly being relied on more.
Important for any partner or customer, Microsoft also unveiled support expansions designed to:
Reduce time to resolution
Share status of service health
Clear up topics and scoping questions
Receive unlimited text to collect information
In addition, Microsoft introduced the single commerce platform. This innovation has the ability to integrate into a partner's CRM and can enable 1-click authentication for customers. Enabling solutions to be found more easily makes the single commerce platform an excellent example of Microsoft's effort to strengthen the company's relationships with partners and customers.
Our takeaways: Putting more power into a customer's hands is the next wave of digital evolution, making technology more accessible and controllable for companies and partners. From more widespread collaboration tools to more transparent and efficient support, Microsoft is granting more visibility across services. The emphasis on colocation services also meets the rising demand for more control, especially with the help of trusted partners. Experienced cloud solution providers are able to offer proper guidance and handle the complexities of migrating to a new solution.
Azure AI Achievements
As artificial intelligence moves from a latest trend to a tactical tool, Microsoft Inspire presented recent real-world accomplishments in Azure AI. In the last year, Microsoft focused on multi-model trainings of bringing speech and visuals together. Microsoft successfully demonstrated AI services enabling a live speaker to deliver a keynote translated into Japanese with the same voice tone and inflections. With successful applications like this, the Microsoft AI vision to empower "developers to innovate, organizations to transform industries, and people to transform society" is coming to life.
Our takeaways: While AI is proving to offer great opportunities, a recent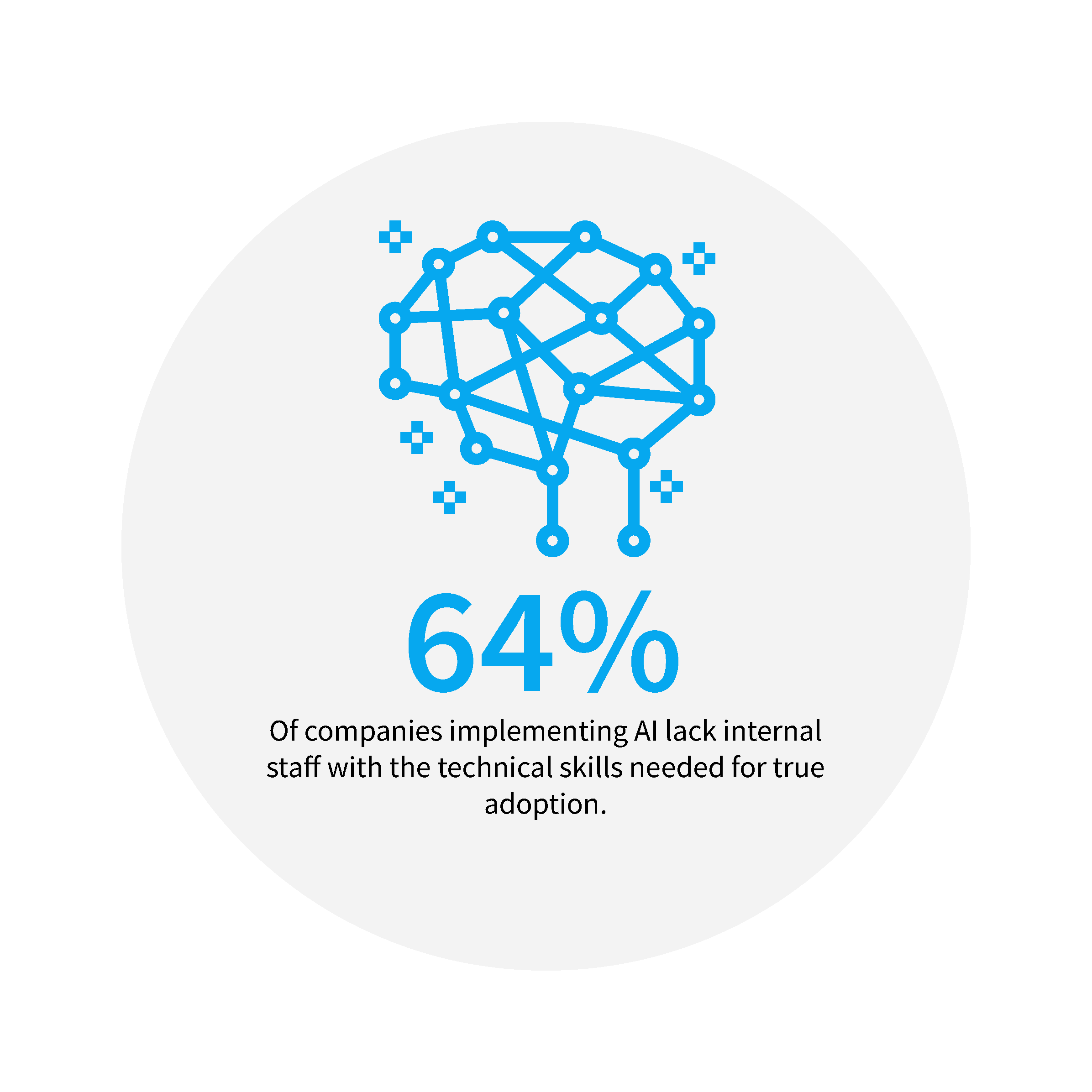 Forrester report found 64% of companies implementing AI lack internal staff with the technical skills needed for true adoption. Despite the appeal, achievement on individual company levels is often only possible through partners and customers collaborating. Working together with an MSP, customers can start to integrate AI components into an IT strategy on a small scale and grow their capabilities over time; however, customers must commit to making the key cultural and ethical shifts to adopt these new technology practices. The outside guidance partners bring accelerates the necessary shifts to optimize businesses and take full advantage of AI.
Through Microsoft's mission commitments, Azure AI enables partners and customers to harness more AI opportunities.
Promoting DevOps
Microsoft aptly explained DevOps as the union of people, process and technology to enable continuous delivery of value to end users, driving new work and reducing remediation. From Microsoft's mission perspective, DevOps is critical to the success of any partner or customer business. Azure brings a comprehensive DevOps foundation and provides tools to meet customer needs and buy-in within their organization.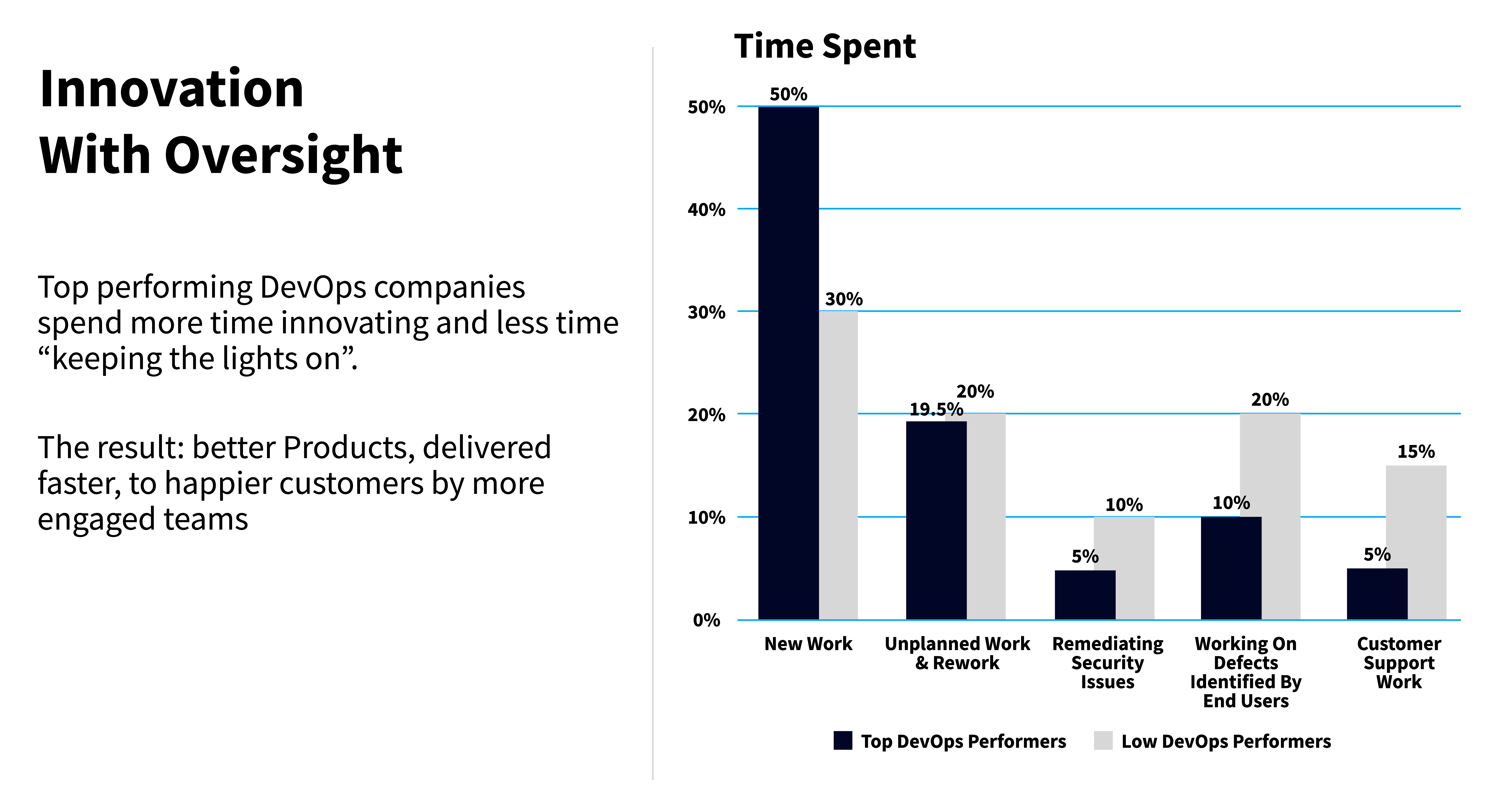 While the services are an invaluable asset, Microsoft shared the reminder that DevOps alone is not enough. A cultural change is required in order to fully take advantage, leading to the introduction of the 4 Key Practices for DevOps:
Collaboration
Workflows and automation
Security and compliance
Continuous improvement
Our takeaways: DevOps is crucial to consistently meeting business goals,
which is why Ntirety CISO Chris Riley encourages IT teams to take Microsoft's Key Practices for DevOps a step further to achieve even greater communication in a trifecta of DevSecOps (Development, Security and Operations). DevSecOps lays an even broader foundation for comprehensive support on strategies and operation processes. Bringing teams together provides a better understanding of what is needed across companies and between partnerships to build stronger security, to streamline for greater productivity, and to enable more opportunities for innovation—a foundational element to Microsoft's mission.
Closing Thoughts
The theme of "democratization of technology" was underscored by the investments in Teams, PowerBI, AI and DevOps to enable more productivity and improvements from within organizations. With these enhanced tools, Microsoft aims to create an environment where businesses engage with partners for the expertise they provide rather than transactional implementation—a promising outlook for greater collaborations ahead.
Ready to apply these learnings and fully leverage your cloud investment? We can help! Ntirety is a Microsoft Gold Partner—contact us for a free migration assessment today.