The growth rate of data has exploded in recent years and historical trends indicate this will not slow down any time soon as advanced technologies, such as IoT, machine learning and AI continue to evolve and become disruptive technologies. IDC's Data Age 2025 report predicts that the global datasphere (a combination of traditional and cloud datacenters, enterprise-hardened infrastructure, PCs, smart phones and IoT devices) will grow from 33 zettabytes in 2018 to 175 zettabytes by 2025, with 49% of the world's stored data residing in public cloud environments.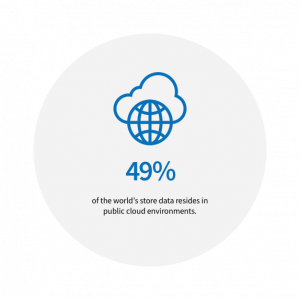 As data continues to grow at staggering rates, challenges will continue to emerge and persist, such as data privacy regulations and security concerns, biased data insights, and working with limited DBA resources. These are just some of the key challenges that many organizations face when trying to optimize the use of their data and databases. So, how do IT leaders meet and overcome these challenges over the upcoming year?
Growing Data Privacy Regulations and Security Concerns
According to Gartner's Top 10 Strategic Technology Trends for 2019, "digital ethics and privacy [are] a growing concern for individuals, organizations and governments. People are increasingly concerned about how their personal information is being using by organizations in both the public and private sector, and the backlash will only increase for organizations that are not proactively addressing these concerns."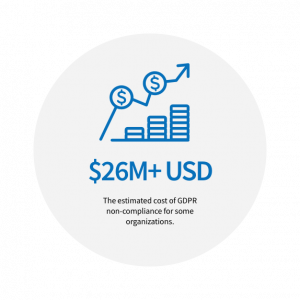 An example of this trend and potential backlash is the General Data Protection Regulation (GDPR) requirement that came out last spring and enforces data protection and privacy for all individuals within the European Union and European Economic Area. GDPR laws don't just apply to companies based within these areas—if you're a foreign country doing business within EU borders then you are subject to the regulations. Furthermore, companies who fail to meet these data privacy requirements will receive a penalty fee equating to up to 2-4% of the organization's worldwide annual revenue of the prior financial year. These percentages may seem small, but for some organizations, this can equal $13-26 million USD or more.
The repercussions for not meeting GDPR compliance are already in effect, and many organizations have already received penalties for not meeting last year's deadline. The Centro Hospitalar Barreiro Montijo reported a penalty of $454,050 for two GDPR violations, including a fine for patient information being accessible by non-medical staff ($340,539 penalty) and the hospital's inability to "ensure the confidentiality, integrity, availability and permanent resilience of treatment systems and services" ($113,513 penalty).
This example further illustrates the importance of database management, security, and having the tools and resources to meet ever-changing compliance requirements.
Driving Business Insights with Data
According to Dataversity, "The pronounced underlying theme for 2019 is delivering value with data."
However, many businesses struggle to establish best practices for how they can use unbiased data to fuel key business drivers. Data insight bias can be at the individual and organizational level, in which data selection and analysis is influenced by factors such as senior leadership, culture, strategic focus, and team organization influence.
In order to drive real business insights from your organization, you must eliminate any bias that can sway analytical results. Many times, outsourcing can be a great way to eliminate organizational and individual bias in your data analysis. An outside partner that provides Business Intelligence analytics can build an objective process and provide an unbiased view you may not be able to obtain internally. By objectively approaching the process by which data insights are gained, companies can improve data quality and data management efforts, overcome data silos, standardize and scrub data more completely and efficiently, and create more shareable dashboards for cross-team analysis.
Organizations wanting to drive business insights with data will also want to move beyond an analysis of what has happened to what will happen. Gartner's Analytic Ascendancy Model establishes four levels of analysis maturity you can use to drive business value:
Descriptive: Reporting on data that already happened
Diagnostic: Analyzing data from the past
Predictive: Forecasting for the future
Prescriptive: Making decisions to impact the future
Having a combination of a more objective, data-driven decision-making will result in an organization that has a holistic understanding of their business's data and how they can leverage that data to make decisions about the future and achieve a more competitive business strategy.
Half-a-DBA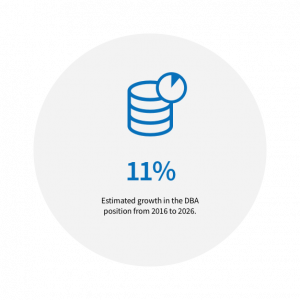 One common issue we have discovered while working with customer databases over the last 20 years is the gap between an organization's Database Administrative (DBA) resources' skills and the database work required. The need for DBAs only continues to grow, with the U.S. Bureau of Labor Statistics predicting that the DBA position should see an employment growth of 11% between 2016 and 2026, which is far greater than the average 7% growth seen by other positions.
As the need for DBAs continues to grow, the outsourcing of database administrative services continues to be an attractive alternative. Outsourcing can provide your organization costs savings by eliminating the need to increase headcount as your service needs scale. Outsourced services scale at a cheaper rate since you aren't paying the fully loaded costs of an internal FTE. On top of that, since you're gaining access to a team to fully support your environment, disruptive events such as sickness, PTO, and internal job changes are quickly and easily handled. Plus, outsourced teams are also able to fill experience gaps that might otherwise occur when you're solely relying on a smaller internal staff. The ability to hand off the 24x7x365, day-to-day tasks to a service while allowing your internal team to focus on higher value tasks not only keeps your team engaged and interested, but also helps prevent DBA burnout and turnover and increases the value the internal FTE staff brings to your company. Whether you decide to completely outsource all DBA functions or only need assistance with select tasks like development or analytics, the benefits of outsourcing go a long way toward solving your database challenges.
Meeting These Challenges by Finding the Right Partner
When evaluating a DBA vendor, there are a few requirements and questions we recommend in your evaluation:
Comprehensive Database Management Expertise: Whomever you select to manage your database environment, you'll want to ensure that your vendor's resources are comprised of highly skilled Database professionals that can serve as an extension of your team.
What environments are your engineers experienced in?
What environments are your engineers certified in (i.e. Microsoft or Oracle Certified Professional)?
What is the average experience level for your engineers?
What is your NPS score? (This will tell you how this vendor is rated by their own customer base)
Do you offer 24x7x365 support or a support ticketing system?
Do you offer database assessments or on-demand hours?
Proactive, Customized Monitoring and Alerting: Monitoring and alerting systems provide DBAs and IT stakeholders the business-critical information they need to know.
Do you provide database monitoring and alerting capabilities?
Is your monitoring and alerting tool capable of identifying potential issues before they negatively impact an organization?
Is your monitoring tailored to do deep database-level analysis of your environment?
Automated Health Checks: Having visibility into your database configuration, security, and other mission-critical areas is crucial for your organizations to head off problems before they grow into server issues.
Do you provide automated health checks on database environments that provide visibility into database configuration, security, and compliance?
Does your team possess complex skills in data warehousing, data processing, business intelligence, data analysis, data visualization, and data management?
Ntirety Database Management X2
As Ntirety continues to unite, you can benefit from exponentially more experience in database management, technical expertise, and services to help you sustain a compliant, safe, and insights-driven database. With 20 years of experience in various database, cloud, and hybrid environments, our team of highly-skilled professionals serve as an extension of your team to support your organization to reach your business goals.
Ready to learn more about our expanded portfolio of database and cloud services? Register for our X2 webinar series.