An edict to go to the cloud can be a blessing, but it can also mean massive challenges. Adapting to change is crucial to success, but CIOs and enterprise IT in general lack the expertise and resources to embark on a well–rationalized and well–executed cloud journey. Most importantly, enterprise IT lacks the time needed to facilitate evolution within their organization.
Even more experienced IT teams come across significant issues when they try to go it alone:  
Business 

R

isk

:

 

As 

evidenced by

 

the 

myriad

 of 

compliance 

and security 

issues

 that make the news

—and those that don't!

 

Downtime

:

 Spending 

numerous days and 

hours

 resolving issues

 can be especially 

taxing when issues happen in off-hours

 as most IT teams are not built for continuous 24×7

x365

 operations

.

 

Opportunity 

C

ost

:

 

An age-old 

issue,

  IT

 spends its time on maintenance and basic tasks instead of advancing the company cause and mission

, leading top execs to perceive the IT team as non-strategic.

Incorrect 

C

loud 

A

doption

:

 Having the wrong cloud mix, and in some cases, 

exhibiting an inability

 to execute a 

flawless 

move to 

the 

cloud

.

 

Lack of 

A

lignment

:

 

IT moves too slow for 

line-of-business.

 

Cloud 

S

prawl

:

 Too many platforms and technologies could be pushing high consumption costs back into operating budgets.

 

Mounting 

E

xpenses

:

 

Exhibited by u

npredictable costs and wasted resources

.

 
The will to reach a cloud state is a good thing, but the landscape of possibilities is virtually endless. IT departments are short-staffed, facing a lack of time and up against a full spectrum of security threats. 
How
 C
loud 
G
ets 
D
one 
T
oday
Cloud technologies are incredibly simple to consume. Shop. Click. Order. Pay. Boom—you're in the cloud. This simplicity betrays the strategic and purpose-built nature of serious workloads on cloud services. Typically, a line of business application is planned and scaled to its most likely usage base, requirements are developed, and finally, the infrastructure is built around those requirements. That's how everyone else in the business gets cloud technology up and running. It's built once and they keep the engine running. 
Uncovering Hybrid
Hybrid computing came along to fill a need to bridge two technological worlds together, leveraging cloud solutions with existing technologies. Designed around integration and security, hybrid cloud technologies help create a new IT fabric.  
The challenge of hybrid complexities lies in wait—a world of technical opportunities beset by an unending roster of features. Also, IT faces logistical, financial, and technical commitments to legacy applications and environments.  
How 
Ntirety
Solves These Challenges
Our approach is different. We focus on the customer by highlighting the business outcomes they want to get out of the cloud. Our approach centers on: 
Consultations during

 pre-sales

 and 

onboarding, 

plus 

ongoing customer support throughout 

the

 customer's cloud journey

 

Security and compliance specialization

 

Agility to take legacy workloads and transition them to a cloud solution

 

Hybrid cloud portfolio on dedicated/private and public cloud to serve complex and secure workloads

 
No matter what business outcomes are required, Ntirety's results are guaranteed through the industry's first and only Guidance Level Agreements™ (GLAs) and our Ntirety Delivery Model™, offering continual improvements throughout all our services.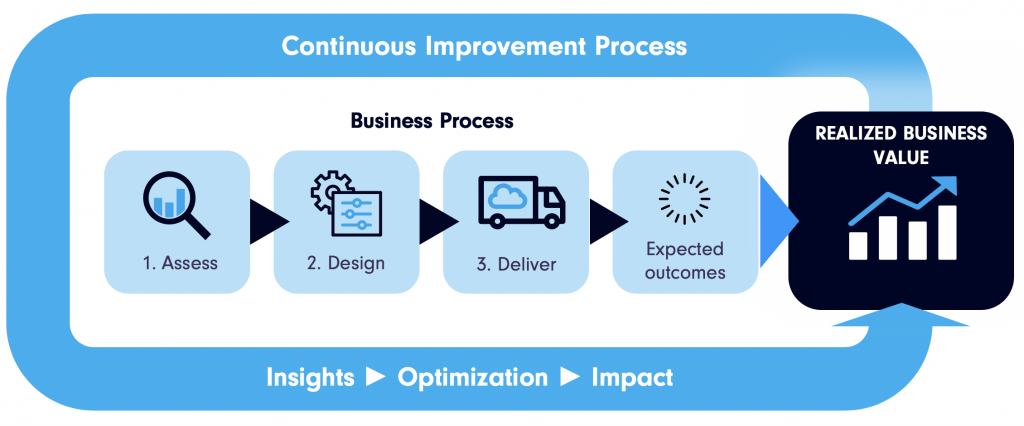 As an example, our Monitoring Insights Service combined with our GLAs enables our team to give actionable recommendations that cover cost savings, risk profile improvments and business agility enhancements.  Customers can rely on quarterly and yearly actionable recommendations to continually improve on their investments.  
You can't find this type of proactivity on hyper–scale platforms alone, and other cloud service providers simply aren't positioned to provide guaranteed business outcomes.  
Why 
W
e 
F
ormed 
Ntirety
On September 10th, 2019, we did it. We united under our new identity, Ntirety, and it's been quite a journey. More than just a name, the switch to Ntirety marks the emergence of a mission to take on the biggest challenges that exist in the world of information technology today. With a unique value proposition that stands alone in the industry, we are helping our customers move faster with less risk. Further, we are guaranteeing business outcomes by helping future-ready, agile enterprises reduce risk, optimize costs and improve their business agility. It's a service that is always improving, always striving to deliver the best.  
Year after year, CIOs are forced to do more with less, balancing that which exists against the opportunities that are always evolving. Ntirety helps teams focus on value creation, creating optimized technology systems and unlocking their potential to overcome previously unbroached boundaries.  
Across all available app infrastructures and despite layers and layers of separate management infrastructures, we reduce complexity. Meanwhile, we're proactively tackling cybersecurity threats and compliance issues that keep CIOs up late at night.  When reliability and best practices are at risk, we help do things right.  
We're obsessed with our customers, delivering global capabilities and solutions with unparalleled expertise. Cloud technologies offer a chance to transform business, but in order to take advantage of this, IT must move faster and reduce risks. Ntirety and it's leading solution approach is the answer for enterprises. 
Curious about how GLAs guarantee business outcomes? Contact us now for a no–obligation consultation.