Rebranding from the merged Hostway|Hosting to the united enterprise Ntirety has been in the news recently, receiving special attention in our Newark, Delaware office.
Visit from Delaware Governor John Carney
Ntirety CEO Emil Sayegh and SVP of Operations Jonathan Arena welcomed Delaware Governor John Carney to our Newark, Delaware offices to meet the Ntirety team and celebrate a great year—from the merger of Hostway and Hosting to our rebrand to Ntirety in September.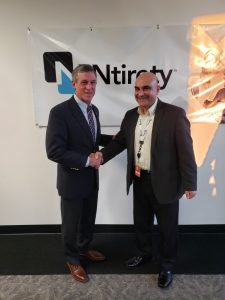 In operation for 15 years, the Newark office and data center—the largest of Ntirety's 14 global data centers—counts 120 employees and was honored to be the first Ntirety location toured by a government official. Due to our growing partnerships with the University of Delaware and Wilmington University, Ntirety's roots go deeper than just the Newark buildings. By providing internships and training programs focused on computer science, AI, machine learning, and cybersecurity, Ntirety ensures that Delaware is fueling the next generation of top minds in the industry.
"Security is getting to be more and more of a challenge, and hackers are continually getting more sophisticated," Sayegh explains. "We need new, fresh talent trained in IT security, interested in a career in IT security, that can keep building up those skills."
More than just an executive meeting, Governor Carney spoke and interacted with all employees, answering questions and discussing various topics in a town hall setting. The visit was a wonderful opportunity to connect with the Governor and demonstrate Ntirety's commitment to educating and keeping top IT talent in the state, building the local economies and positioning Delaware as a leader in cybersecurity.
New Name Brings Big Headlines
Along with a great in-person visit with Governor Carney, our local offices and data centers made more news with articles in the Delaware Business Times, "Tech co. with Glasgow office merges, rebrands," and Technical.ly Delaware, "Ntirety aims to position Delaware as a cybersecurity player." From our beginnings in 1997 to the 2019 rebrand, the article covers our history and growing enterprise services.
In his interviews, Sayegh shares the impressive skills and tenure of the Delaware office's tech professionals, some being a part of the team for a decade. Just as Ntirety nurtures IT education in the local universities, the same emphasis on skills and knowledge growth is an integral component within the company as well.
"Ntirety offers a certification reimbursement program and encourages employees to add new skills to their resume," Sayegh explains to the Delaware Business Times.
Senior Vice President of Operations Jonathan Arena is a shining example of this commitment to employees, joining the company as an entry-level professional and working his way up to senior leadership.
From Sayegh's perspective, Governor Carney's visit helped solidify this spirit of growth for Delaware's tech community.
"I truly believe in the partnership between academia, private business and government, and this was a very good step to work on evolving that," Sayegh optimistically shared in his interview with Technical.ly Delaware.
Recognized Excellence in Delaware and Beyond
Ntirety is proud to have our Delaware team recognized for their commitment to outstanding service—a core component for each and every one of our offices around the world. Ntirety was selected as one of Canada's Top Small & Medium Employer for 2019 and carries compliance certifications for PCI, HITRUST, HIPAA, and GDPR.
Ntirety is honored to share our success and looks forward to delivering comprehensive managed hybrid, multi-cloud solutions and guidance for businesses to transform into future-ready, agile enterprises.
Find out how Ntirety's team of IT experts can transform your business. Schedule a consultation today.
Looking for a new job with a team of innovators? Ntirety offices across the world are always looking to talented people to join the Ntirety family! Check out our current job listings, which are updated daily.